ELI Play supplier of The Big Bounce
Dream & Consider
The step to your own playground
How to start an indoor playground?
Patrick and Marianne van Leuveren have a dream. They want to open a large indoor playground for children from 0 to 12 years old. The business plan is almost complete; all they need is a location, and funding. In the mean time, entrepreneur Henk van den Broek, of Hullie in Uden, provides them with a few interesting insights.
Patrick and Marianne have long been planning to become entrepreneurs. With Patrick's many years of experience in the industry and both their ideas, an indoor play paradise seems to be the ultimate plan. For inspiration, they visited other playgrounds and obtained information from other entrepreneurs. They also contracted an agency to help them write the business plan and advise them on financing. "They coordinate the funding and support us in every way to set up our business. Although we do a lot of things ourselves, it's wise to have a partner who understands the business. Once the business plan is ready, we will have to explore which financing form is most appropriate. This could be crowdfunding, an investor or stacked finances."
Quality and service are central
The Van Leuverens try to gather as much information and advice as possible to prepare themselves as best they can. "We received a lot of feedback from some entrepreneurs and are allowed to learn from their experiences. For us, that's incredibly valuable ", says Patrick, who has engaged ELI Play to design their palace of dreams and everything that goes with it. "They think about the feasibility and originality of our ideas. The focus must be on active and adventurous play fun for the children and the comfort for the parents and / or supervisors. Quality and service are central. In addition, we are going to have a certain theme, which is still a secret."
Entrepreneurial spirit
Henk nods. He believes that consulting expertise is sensible, at least to a certain extent. Before he wants to say anything about that, he wants to know how things stand with the entrepreneurial spirit of Patrick (41) and Marianne (44). Patrick says he never started his own business before, but he was very closely involved in the start-up of two new companies. Because of my experience as a manager and branch manager of indoor play paradises and catering businesses, I was right in the middle of it all and gained a lot of experience.

Marianne adds that she started her own company eight years ago, a practice for natural medicine. "My practice is successful but not enough to provide for our family. That's why I chose to set up an indoor play paradise together with Patrick and make our dream of doing business together come true.
Trust yourself
Henk warns the couple not to give away too much to third parties. Trust yourself and dare to stand up for yourself. If you're meeting with people from the bank or your local government, you have to able to put your foot down. Only then will they understand your position and will they know from day one who they're dealing with. When things get tricky, you should be able to care of yourself. External parties can never do that as well as you can.
Trust yourself and dare to stand up for yourself.
Henk van den Broek
Don't forget the adults
Henk also insists on originality. He is pleased that Patrick and Marianne say they want to 'offer just that little bit more' and create a top team with people who like to come to work and are committed. Patrick: "In the end, everyone has to provide quality, service and customer friendliness. You still make a real difference here. A first visit by a customer, or rather the guest, is not that difficult. The art lies in the return visit.
A first visit by a customer, or rather the guest, is not that difficult. The art lies in the return visits.
Patrick
Start your own indoor playground
We hope that the guests like to come back and visit us." It's very positive that they realize this, says Henk. "Children will play anywhere, but it is essential that you create a pleasant environment for adults as well. You need decent catering and a good menu. When you surprise them with that, the return visits will happen automatically."

Financing
Patrick and Marianne's business plan is largely in place. Once a final location is found, the plan can be finalized and the financing can start. "And that is also our biggest concern; will we get the financing organized? And what risks do we run privately? For us as a family with young children, this is still a serious consideration," says Patrick.
Location matters
Henk, in turn, finds the location might be a bigger problem. "You have to take many aspects into account. Are there enough children in your area? Will there be an increase in population? Is there tourism in the area? Is your play paradise distinctive enough for families to travel to? If so, I recommend that every entrepreneur of playgrounds should avoid industrial areas. When the property has the look of a factory, there is only the inside with which you can make a difference. It's better to choose a former swimming pool or an abandoned indoor tennis court; these have more possibilities.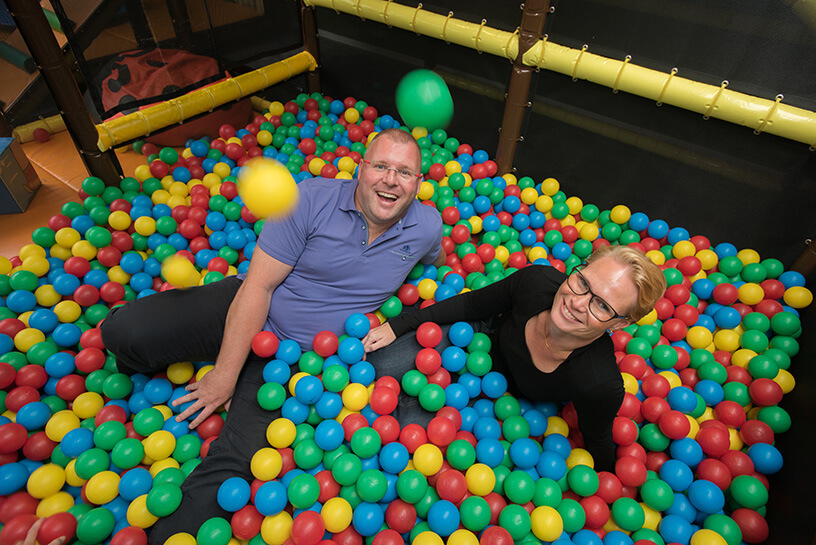 The best getaway
Henk is, with his Hullie, located in the outskirts of Uden. He converted his pig farm into a play farm 18 years ago. It features indoor, outdoor and water playgrounds, lounge sofas, many windows, views and Brabant's exuberant food. The audience appreciates the concept and has awarded Hullie The best outing of 2017 in the category playgrounds.
Being original is most important
The start-up phase seems less smooth. Henk: "It's a hurdle that every entrepreneur has to take. I can't look into the wallets of Patrick and Marianne, but the money you bring with you is usually gone pretty quickly. In this industry, it will cost you a tonne or two before you even get started. It is therefore wise to hire a location instead of buying it. But the most important thing is, and remains, originality. Competition is fierce and increasing. You have to distinguish yourself from the average situation in order to be successful. You have to have your own identity and implement the concept in detail. Make a good presentation and communicate your plans with passion. If everything is right and your craftsmanship is undisputed, you will always find an external financier who wants to invest in your dream."
---