Big Bounce: now also in France!
Operate & Optimise
LoisiFlandres: Flemish play paradise for all ages
The future of sports and games: the active games of Valo Motion
The Onraet family realised the LoisiFlandres amusement park in Hazebrouck, northern France. A park where you can go bowling, karting, play miniature golf, laser games and billiards. Since 2016 there is also an indoor playground for children from 3 to 13 years of age. Founder and director Francis Onraet saw the number of visitors double.

With large amusement parks in Lille and Dunkirk just around the corner, LoisiFlandres really has to know what it's doing to win the battle for the customer. In 2008, under the inspiring leadership of Pater Familias Francis, the Onraet family started "Bowling des Flandres", a bowling alley with 16 lanes. "Of course, this includes a restaurant," says the true entrepreneur. "In addition, we built a large billiard centre and a 12-hole miniature golf course covering 1300 m2."
Keep innovating
The park was a success from the beginning, but Onraet realises like no other that you have to keep innovating in order to keep your guests captivated and to tap into new target groups. Three major expansions followed in 2016. "We now have an indoor karting circuit of 3600 m2 on two levels, with 15 karts for adults and 10 karts for children. In addition, we offer a 500 m2 laser game arena on two levels. This is how we bind young people and adults to us, we can also organise company outings and bachelor parties. We didn't have anything for young children yet though, and of course they are part of it all! That's why we created a Family Entertainment Centre (FEC) for the 3 to 13 year olds, where children can have a good time. With this we offer the whole family, from 3 to 83 years, a complete and fun day out!"
1200m2 play paradise
For the indoor playground, the Onraet family was looking for several providers. "We already knew ELI Play a little longer, so the first contact was quickly established. We went to look at their production location in Boxtel and were immediately "sold". During the subsequent conversations it soon became clear that we were on the same wavelength. We relied on the quality of their offerings and we could also do business well together. So LoisiFlandres built a new building with various elements of ELI Play attractions. "We created a play structure of 1200m2," says Onraet. "We now have a Power Tower, rope bridges, a family slide, a climbing wall and trampolines. Children can climb, slide, play and have fun with their friends. We even created a safe place for children under the age of 3 to play and develop their motor skills."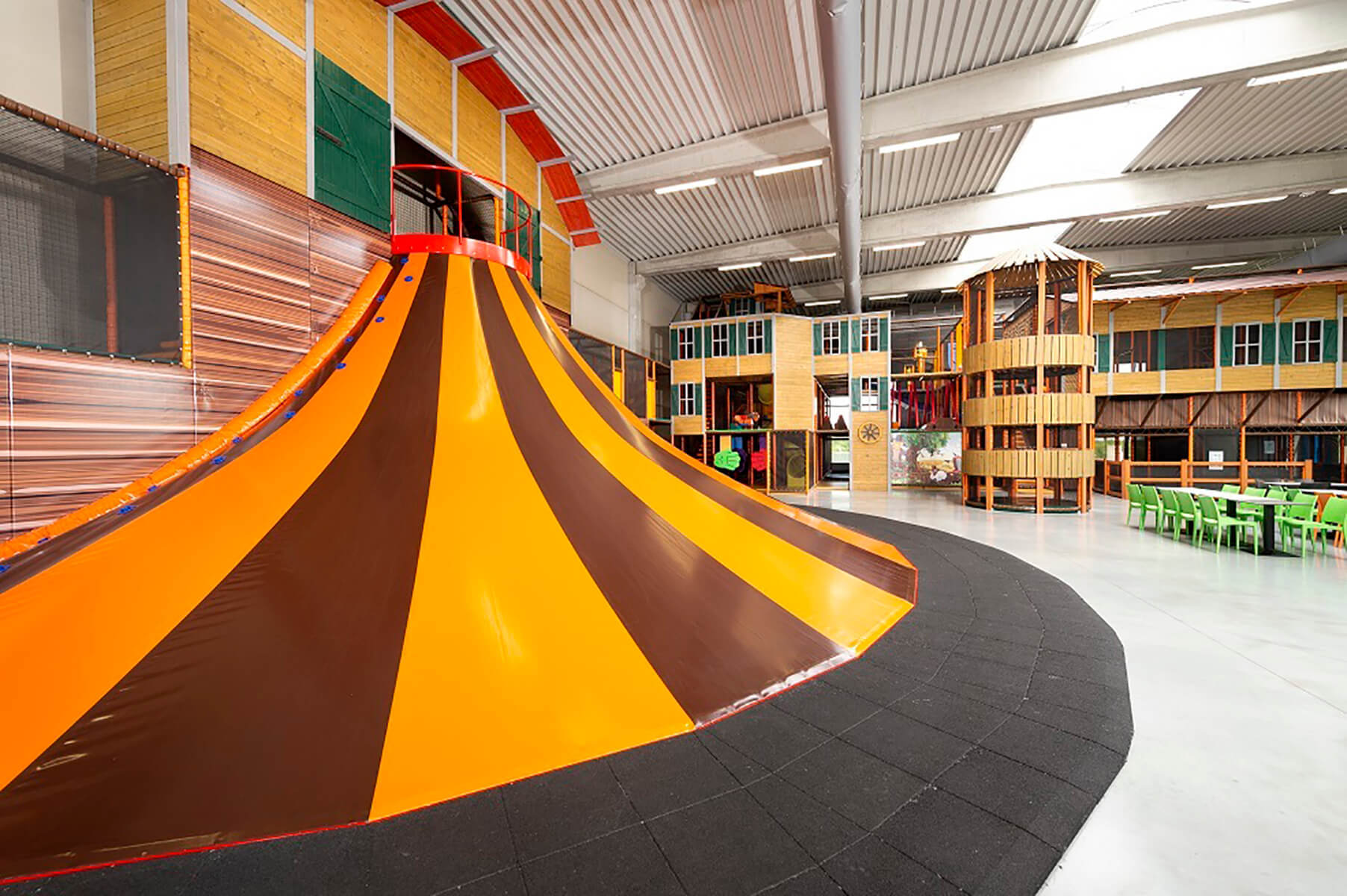 Theme: Flanders
In order to distinguish himself from the competitors, Onraet chose a specific theme that was close to his heart. "This is French Flanders, so we have adopted the theme "Flandres" and implemented it in all sorts of places in the park. For example, we have 'L'Estaminet', a typical Flemish café where you can play nostalgic Flemish wooden games and eat meat or cassoulet from the region. You can also enjoy a waffle, a crêpe or other local delicacies. And adults can indulge in all these delicacies with a delicious Flemish beer."
The indoor playground also exudes Flemish peasant life. "This appeals to a lot of guests and turns out to be a hit. ELI Play has designed it to our liking; it is really made to measure. It just looks like a cheerful farm, colourful and with nice decorations such as hay bales, farm animals and scarecrows." Safety, hygiene and comfort were, in addition to solidity, important principles for the design. And here too there is a cafeteria, with all kinds of drinks and snacks for children to enjoy. You have a direct view of the children playing.
Themed indoor playground for kids
New target group
Since LoisiFlandres opened the new FEC, the influx of visitors has increased significantly. Onraet: "We have reached out to a new target group. Our young guests stay in the park for a long time and also like to celebrate birthday parties with everything that goes with it. The indoor playground has also extended the season, says Onraet: "LoisiFlandres is a great place every weekend and every holiday. When we include the laser game and the karting tracks, I think we receive more than twice as many guests as we did before the extension. Among them are families who have children of different ages; one goes to the indoor playground, the other goes karting or plays laser games and granddad plays billiards.
I have grandchildren of all ages, so they can subject the whole park to a thorough 'inspection'.
Onreat, owner LoisiFlandres
Everyone has a role to play in family business LoisiFlandres, as it turns out.... "My grandchildren are testing all the activities! I have them in all ages, six years old and over, so they can subject the whole park to a thorough "inspection". That, of course, is very handy; if they think it's fun, it is!

Trust your partners
Onraet wouldn't be Onraet if he didn't already have new ideas for a long time. "You should never stand still as an entrepreneur and always come up with new concepts. It's nice if you can rely on your partners for this. You come up with new ideas together, new concepts and new models. I can't tell you what our thoughts are at the moment, but you can be sure we'll add another activity to our park shortly!"
Themed soft play area for toddlers
---