Dream & Consider
3,500 visitors per week at Bij de Neut
"Install some playground equipment, open your doors… and be the same as everyone else"
Bij de Neut was to be the most amazing indoor playground in the Netherlands
Disguised as an Italian village and featuring a pizza oven, an ice-cream parlour, a Fiat 500 and a movie theatre. It earned Willem Neutkens the title of most iconic food industry entrepreneur of the province of Brabant.
Bij de Neut is truly unique. Inside, you believe yourself to be standing in a Ligurian village square with a cosy terrace. Behind the façade of the picturesque houses, you will find a great playground with towers, slides and a ropeway. Nearby, you will find "Westerhoven aan Zee," an indoor beach with an enormous ship that offers a great place to relax.
The establishment is open 365 days a year. Bij de Neut serves pizza, pasta and pancakes, as well as wine, beer and seventy kinds of lemonade. Instead of a wine expert, they have a lemonade expert. The concept is completed by the traditional Dutch candy shop.
Surprising new destination
Westerhoven is located near the Belgian border, south of Eindhoven. The village is home to 2,000 people, while the restaurant boasts 500 seats. On the busiest day ever, 1,300 people came to Bij de Neut for a bite to eat. "Westerhoven was overrun by cars," Willem says laughing. The restaurant will now have its own parking site in a field across the road.
Bij de Neut reminds one of a nostalgic fairy tale. The name is derived from the moped and bike shop operated by Neutkens' grandfather and father since 1953. If you were looking for anything related to motors, that's where you had to be. Twelve years ago, Neutkens' father decided to relocate the shop to Veldhoven. The building in Westerhoven sat empty since then. The owner could not find a new destination for it, until he asked Willem for advice. "I was actually too busy with my other activities in the food sector, but I gave it some thought anyway."
Mediterranean atmosphere
One night, in Bédoin in the south of France, Willem asked himself: "What is a great place to sit? What truly captures the feeling of being on holiday?" He envisioned a Mediterranean coastline. He saw Italy. In his head, the concept of an indoor playground began to take shape. He took a tour of the building in his mind and suddenly saw exactly what needed to be done. He notified the owner and called his business partner. They were both excited about the idea right away. Together with the building owner's sister, Willem designed the interior."
The playground equipment had to be incorporated into the design. People should not feel like they are eating in a playground. Even people without kids should have a great time here.
Willem Neutkens
Willem Neutkens, Owner indoor playground Bij de Neut
Deliberate choice for ELI Play
The remodelling took a year and a half. There are 250 solar panels on the roof to provide power to the building. No gas is used at all. The toilets are flushed with rainwater and the building is heated using sustainable thermal storage technology, so it has no carbon footprint. Finally, the building's acoustics are wonderful: no hollow noise, no shrill screaming. Every detail is perfect. Menus in three different languages, home-made pizza dough, thirty-two brightly coloured Triptrap chairs for the smallest kids and children who wet themselves are given a new pair of pants to wear.
ELI Play's equipment fits perfectly in this picture. It is the largest manufacturer of indoor playgrounds in Europe and a professional and reliable partner. Its quality standards match our own.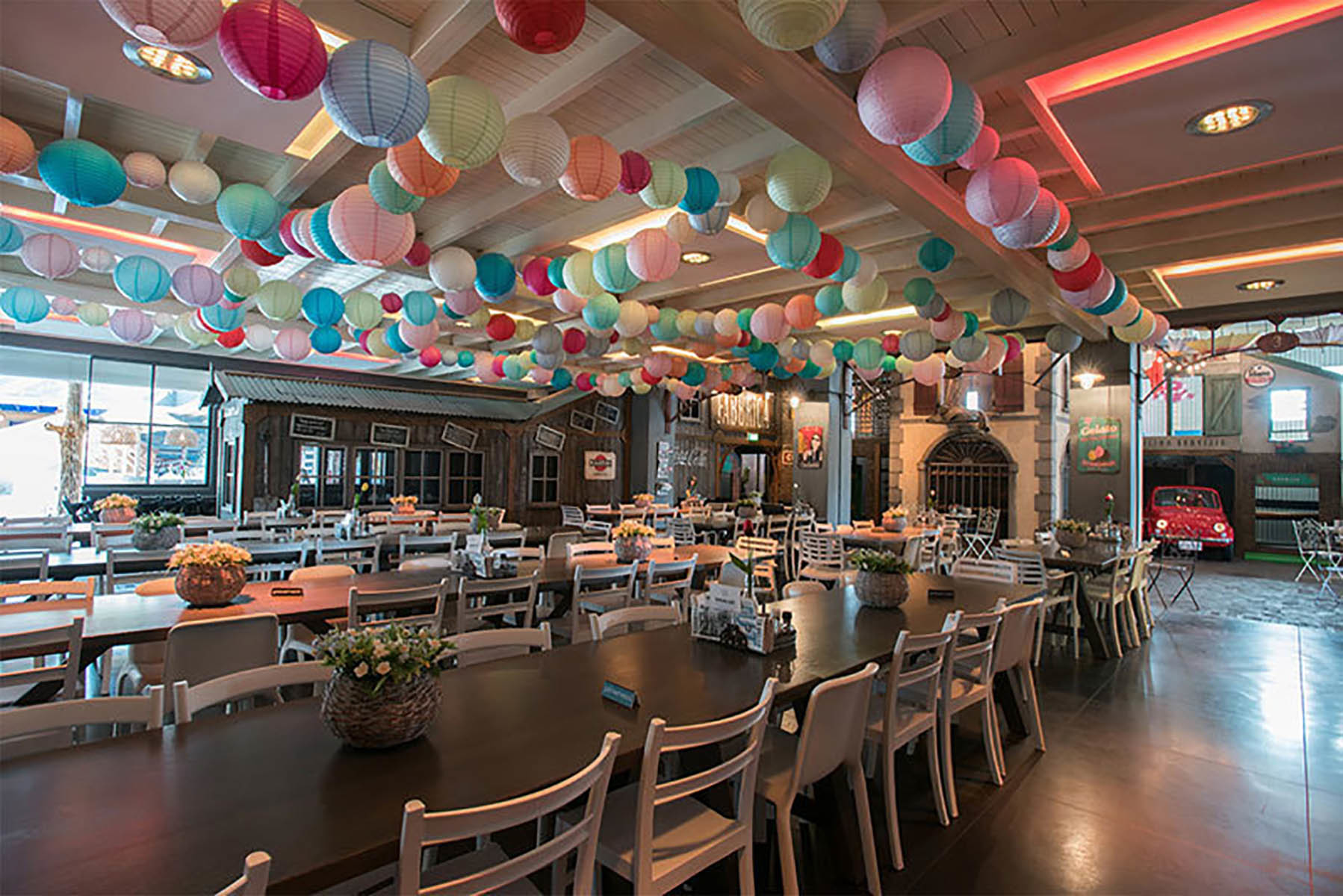 Westerhoven aan zee
Any concept as well designed as Bij de Neut's practically sells itself. Willem has never published a single ad. Even the opening was not announced. "We worked up to it for a year and a half on Facebook. We published mysterious posts and eventually had 2,000 followers. When the restaurant was done, we held an open day and gave everything away for free. Since then, word of mouth has been very strong. Everything we do, we do well. There is a vision behind everything. When children host a party here, we give each guest a lunchbox or backpack with our logo on it. We worked on the beach area for months, but our visitors were none the wiser. We opened a day before Christmas. People were astonished, that was great. We suddenly had 150 extra seats and our restaurant was even more complete, because we now also had playground equipment for children under the age of six."
Continuous development
The concept earned him the title of most iconic food industry entrepreneur of the province of Brabant. He came in third in the national competition. "The recognition is great, of course." Still, he would have liked to win. He will, someday. Willem's mind comes up with one great food concept after another. For example, there are eleven food trucks driving around the Netherlands and Belgium under the name of Willy's Nachos and he opened a nacho stand in the Markthal in Rotterdam. Willem and his business partner are also seriously considering opening another Bij de Neut. They are currently exploring the possibilities, although no one knows yet whether it will actually happen. The only thing for sure is that "we are constantly working on innovation and developing new and crazy concepts." Thus spoke Willem Neutkens, food service entrepreneur and owner of what might just be the most beautiful indoor playground in the whole of the Netherlands.
Themes for indoor playgrounds
---